As of April 26, 2022, Singapore's Covid-19 policies were updated and many travelling and social restrictions were lifted. Stringent mask policies have also been loosened. It seems like life is slowly shifting back to the pre-pandemic lifestyle. 
Fortunately, it seems like some jobs from the pre-Covid world is set to make a comeback in 2022. As a trusted recruitment company, we've made a list of 5 jobs making a comeback. In true BGC style, we've also included the salaries in our article! Have a read!
Tourism Industry Overview
The tourism industry was undoubtedly one of the most severely affected industries during the pandemic. In the beginning of the pandemic in mid-2020, the overall revenue in the travel and tourism industry plummeted from S$4.11 billion to S$1.65 billion. Making it a steep drop of almost 60%. In the Asia Pacific Region, employment loss in the travel and tourism industry due to the coronavirus pandemic was 34.1 million in 2020.
As we are progressing towards mid-2022, revenue in the tourism industry is projected to increase by 138% as compared to 2020. Google Trends also reflects that some jobs in the tourism industry are making a comeback post-pandemic. In this article, we will present these jobs, recent developments in employment, and the average salary.
5 Jobs That are Making a Comeback Post-Pandemic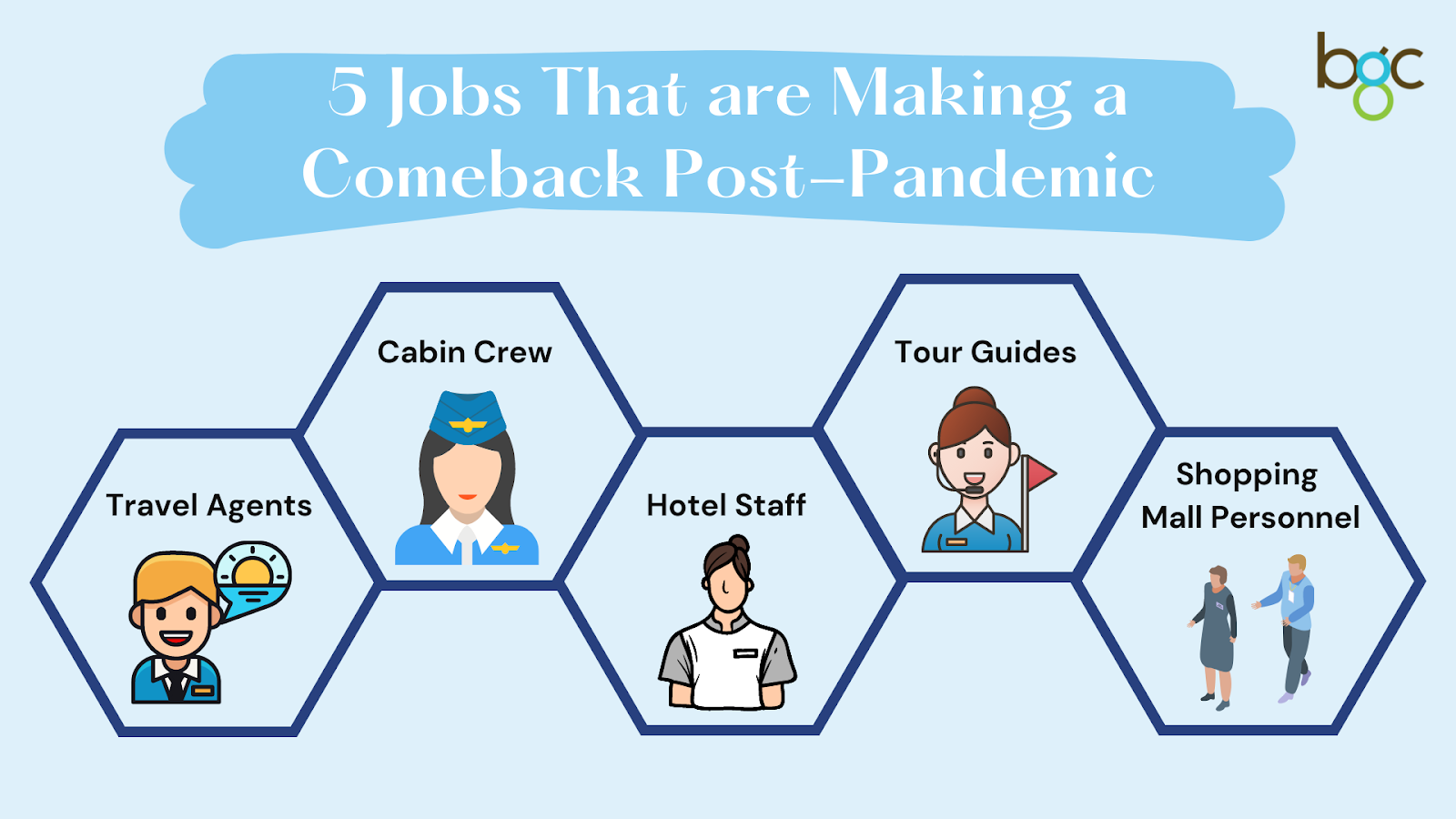 1.  Travel Agents
Different countries worldwide are gradually opening up to tourists, where places like the United States, the United Kingdom, and even some Asian countries like South Korea no longer have quarantine requirements. Having not been able to travel for almost 3 years, Singaporeans are increasingly keen to travel and are actively looking to book a trip or flight through a travel agency.
According to the Wall Street Journal, an online survey that up to 44% of 410 travelers reflected that they are more likely to use a travel adviser after the pandemic. Travel agencies all over the world need more agents to deal with the surge in demand, which in turn increases the demand for travel agents in the industry.
Average Salary:
S$3,010 per month according to Glassdoor
2.  Cabin Crew
As the usage of the Vaccinated Travel Lane (VTL) scheme continues to grow in the post-pandemic era, airports are busy again and flights per day are increasing, where there were around 14,600 flights in the Singapore Changi Airport in April 2022, and are projected to increase in the near future. This means that airlines are once again looking for cabin crew members to work on the aircraft to ensure that they are fully staffed.
Using Singapore Airlines as an example, 4,300 jobs and the cabin crew workforce were reduced by more than 25% during the pandemic. However, now they are aiming to re-hire some of the cabin crew to meet growing customer needs.
Average Salary:
S$3,500 per month according to Glassdoor
3. Hotel Staff
With an increased number of tourists projected for the near future and more Singapore citizens actively travelling locally in the form of staycation, the demand for hotels is consistently increasing. In CBRE Singapore's latest report, there have been signs of a recovery in the Singapore hotel market over the second half of 2021, specifically in the premium segments. The average occupancy for the half-year grew to 65.3%, higher than the same period in 2020 by 6.5%.
This covers hotels like Marina Bay Sands and Resorts World Sentosa, which is entertainment on its own with casinos, a shopping mall, and a wide variety of restaurants, likely the first choice for tourists. Hotels like this need a large team of staff to provide the quality service they are famous for, with the front desk staff, doormen, housekeepers, and hotel managers being some common examples.
With more tourists expected, it is important for these hotels to maintain fully staffed, and thus many hotels are once again hiring, searching for talent more locally than before due to a lack of foreign workers.
Average Salary:
| | |
| --- | --- |
| Front Desk | S$1,850 per month according to Glassdoor. |
| Doormen | S$1,530 per month according to Indeed. |
| Housekeeping | S$1,650 per month according to Glassdoor. |
| Hotel Manager | S$5,179 per month according to Indeed. |
4. Tour Guides
Besides the projected increase in international tourists, Singapore is finding new ways to stimulate demand domestically. In early 2021, the S$320 million SingapoRediscovers Vouchers (SRV) scheme was introduced, where Singapore Citizens above the age of 18 were eligible for vouchers that could be spent on local tourist activities like staycation, dining, and tours. By working with popular platforms like Klook and Airbnb, the scheme reached over 300,000 Singaporeans and significantly boosted the demand for local tours and attractions.
For special tours and programs under the scheme, at least one designated tour guide is needed to facilitate the program for participants, which increases the need for new and returning tour guides in the industry.
Average Salary:
S$2,300 per month according to Talent.com
5. Shopping Mall Personnel
As previously mentioned, the number of international tourists is expected to increase in 2022, where tour guides are likely to  bring visitors for shopping and dining at popular shopping malls in Singapore. To add on, the Singapore government is trying to boost the local economy by introducing the CDC Voucher Scheme in late 2021, where more than 1.3 million Singaporean households will receive $100 CDC Vouchers to spend and dine in places like Tiong Bahru Plaza.
The demand and flow of people in shopping malls are sure to increase with the lift in social-distancing policies. Companies in shopping malls will need to rehire their sales staff while restaurants will have to hire more waiting staff, ultimately increasing the demand for workers in shopping malls.
Average Salary:
S$1,993 per month according to Indeed
Coming Back Stronger Post-Pandemic
Singapore is trying hard to live with the pandemic and gradually return to normal life. Popular jobs in the tourism and travel industry are adjusting rapidly and trying their best to make a strong comeback for the projected increase in both international and domestic tourists.
Travel agents, cabin crew, hotel staff, and tour guides represent only a small section of the tourism industry, where other subsets of the industry like shopping malls and restaurants are also aiming to increase their hire back to the normal volume.
With these combined efforts in the government and the tourism industry, Singapore can recover quicker from the pandemic and hopefully reach the ultimate goal to establish it as a place that is safe to travel and welcoming to visitors.